On February 18, 2006 Harold Eatmon was the keynote speaker at the Teresia Wairimu's 2006 USA Partner Summit in Houston, TX.  Headquartered in Nairobi, Kenya Evangelist Teresia Wairimu's ministry presented to the USA partners that night the devastation that five years of drought had brought to Kenya.  Moved by the Spirit of God, the prophet began to command the winds to blow over the Indian Ocean and released the rains to Kenya.
After five years of drought the rains came to Kenya in just five days after this prophetic act in Houston, Tx. The rains were so great that streets became flooded and the leaders from the meeting actually called Harold and asked him to pray and ask God to STOP the rains.
                                    Prophecy Fulfillment
Wed. March 01, 2006 Email set to HEMI
mamajedi@yahoo.com has sent you this article from Nationmedia.com with this message: I was in Houston when you gave a prophecy of the rainfall in Kenya. Weathermen: Current rains Published: 3/2/2006 By: NATION Reporter
On Tuesday, Nairobi had a downpour which caught many residents unawares. The rains, which started at around 3.30 pm, pounded the city causing traffic snarl-ups that went on well into the night.
Due to poor drainage in the city, most of streets were flooded, inconveniencing motorists and pedestrians alike. Hawkers had a field day selling umbrellas to pedestrians making desperate attempts to get home after work. In most parts of the country, Mr Ambenje said, the heavy rains began on February 23, with Kisii recording the highest average fall – 72.6mm – in the past five days.
Meru came second with 58.7mm, followed by Kericho 40mm, Narok 36.8mm, Kakamega 34.1mm, Machakos 26.7mm, Embu 23.2mm, Marsabit 23mm and Butere 18.9mm. Mr Ambenje promised to give a comprehensive forecast for the season next week.
Mr Ambenje said most of the rains recorded occurred between February 23 and 27. Kisii recorded it highest rainfall of 60.9mm on February 24, Meru 55.3mm on February 26, Kericho 29.2mm on February 24, Narok 23.3mm on February 27, Kakamega 28.5mm on February 24, Machakos 26.7mm on February 25, Embu 22.7mm on February 26, Marsabit 20.1mm on February 24.
Kenyans have been waiting with bated breath for the rains since last month following prolonged drought across the country that left at least a dozen people and hundreds of livestock dead. The number of people facing starvation has increased from 2.5 million to three million, with a large majority in Rift Valley, northern Kenya and Eastern Province.
Water rationing has begun in the city after water levels at the Ndakaini and Sasumua dams fell considerably. The ministry of Energy has also warned of power rationing if water level at the Seven Forks dam does not rise soon.
Wed. March 29, 2006 Email from Reverend Teresia Wairimu
From: Reverend Teresia Wairimu
To: Harold Eatmon
Sent: Wednesday, March 29, 2006 @ 12:09 AM
Dear Prophet Harold, Receive greetings in the precious name of Jesus. It is a great joy to hear from you. I take this opportunity to thank you once again for joining us for the Prophetic Summit. It indeed was a great blessing to have you and we look forward to a time of ministry again when the Lord grants an opening. Thank you so much for standing in prayer with us for our Nation concerning the rains. I'm so glad to let you know that the rains have come and we are praying for more daily. May God bless and keep you. In His service, Reverend Teresia Wairimu
Actual Prophetic Declaration spoken by Harold Eatmon
"There are some leaders that have not repented of their words of drought, famine, and death. Their fear is now intimidating a nation [Kenya] and drought is around about because of all that activity is literally connected together. This is literally a principality that's come to assault Kenya and God is saying, "I am going to show the world what I can do in a nation that's prayed and that has sought My face."
[Declaration through prayer] The Blood of Jesus! I cut it off in the nations! Africa!
[Continued Declaration] Press in! Press in! Bring the Miracle God. Form the clouds right now! Let it come off the Indian Ocean, right now! Create the miracle right now!
Satellite Image of Kenya Before Prayer (February 2006)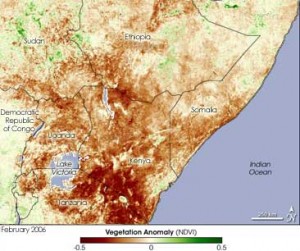 Satellite Image of Kenya a Month Later (March 2006)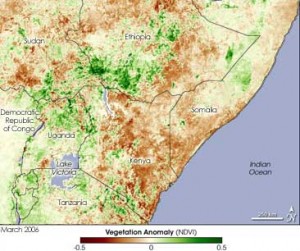 Satellite Image of Kenya Nine Months Later (November 2006)