While ministering in Israel Harold Eatmon met Evander Holyfield for the first time   in November of 1994. Although Evander had recently been diagnosed with a heart condition that could take him out of the boxing ring forever, Harold Eatmon prophesied to Evander that he would win his next four matches…and that the fourth match would be difficult but significant in his career.
After receiving this prophecy Holyfield went to the Mayo Clinic in Rochester, MN where his heart was confirmed to be healed. Evander returned to the World Boxing arena and the following is a record of Evander's next four matches after the November 1994 prophecy:
1) May 20, 1995 — Ray Mercer, Atlantic City, W 10
2) Nov. 4, 1995 — Riddick Bowe, Las Vegas, TKO by 8
3) May 10, 1996 — Bobby Czyz, New York City, TKO 6

4) Nov. 9, 1996– Mike Tyson, Las Vegas, KO 11
As had been prophesied, in the fourth fight Holyfield faced Mike Tyson in 22 to 1 odds; this battle known as the "Holyfield-Tyson I: Finally" match regained Evander the WBA heavyweight title.  Symbolically it was David versus Goliath and served as a prophetic sign of a future great battle coming to America.
November 1994: Evander Holyfield meeting Harold and Betty Eatmon in Israel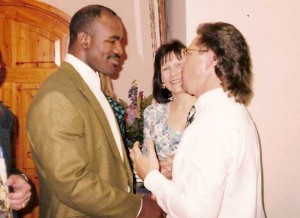 Harold Eatmon prophesying to Evander Holyfield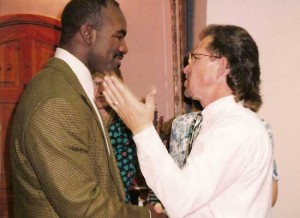 Harold Eatmon ministering to Evander Holyfield's Bodyguard